Y-Jesus Magazine
Download free PDFs by clicking on articles below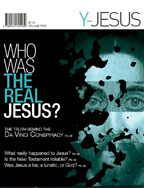 BORN IDENTITY
Was Jesus a real person?
JESUS COMPLEX
Was he crazy, a pathological liar, or the Son of God?
MONA LISA'S SMIRK
The truth behind Da Vinci Conspiracy
JESUS.DOC
Is the New Testiment reliable?
THE PATH LAID BY PROPHETS
Was the messiah's identity encrypted within ancient Hebrew prophecy?
BODY COUNT
Is there evidence that Jesus rose from the dead?
WHY JESUS
Is he relevant today?
Articles Also Available in the Following Languages: